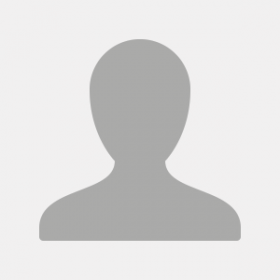 About Artist
K.R. Santhana Krishnan's "Open Doors' welcomes viewers into spaces that narrate stories. Opening doors to intriguing views, images, nostalgia and lifestyles - those are artist K.R. Santhana Krishnan's forte. From 1993 onwards his evocative but simple and nuanced images of more than 800 doors have opened the way to fame, success and critical acclaim for this 33-year-old Chennai-based artist. "My fascination for doors goes back to my childhood and student days in Kumbakonam. Growing up passing by the traditional Brahmin agraharams and spending years there made me ponder on the different worlds that existed behind each door. The way the light fell on the threshold, use of colours, materials used for the doors and walls... each has a tale to narrate of the house, its owners and their lives. Even the exterior surfaces of the doors have myriad tales to narrate," explains the artist. His works take us into his unique world of thresholds. While some of them are acrylic on canvas, some are painted on wooden models of doors (complete with locks) that faithfully reflect the entrances found in houses in South India. A few of his works take us to the inner spaces of houses in Jaipur and Bikaner in Rajasthan. Each of his works reflects the wide-eyed wonder and curiosity of the artist as he gives us glimpses of the life that lie behind the doors. Attention to detail makes the works a colourful documentation of changing lifestyles in India also. Most of the paintings show half-open doors that lead viewers to the scenes that are framed by the doors. But for crows, none of his paintings or works has people in it. Nonetheless, his paintings bustle with life and hint at the busy hands that shape the life inside and outside the houses. Tulsi tharas in inner courtyards, milk cans, kerosene lamps, wooden boxes, clothes drying ...faint white numbers and letters on the doors again give us clues about the inhabitants of those residences.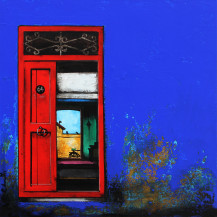 Door series 2 | 15" x 15"
Door series 1 | 15" x 15"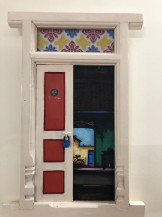 Untitled I | 18 X 12 Inches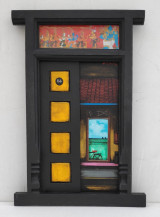 Door I | 12 X 18 Inches