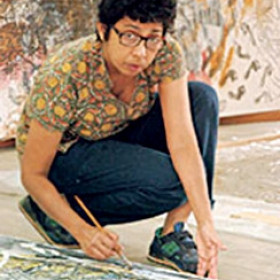 About Artist
Jayashree Chakravarty graduated in Fine Arts from the ViswaBharati University, Santiniketan, in 1978 and obtained a post-graduate Diploma from M.S.University, Vadodara in 1980. She was an artist in residence during 1993-1995 at Ecole des Beaux Arts, Paris. Her works are intricately detailed and minutely depicts narratives from her life. Chakravarty's style draws inspiration from the French impressionists and Byzantine mosaic design. She has exhibited across India and Sweden and her works can be seen in the National Gallery of Modern Art, New Delhi, and in the Chandigarh Museum. In the last year she participated in numerous group shows including, 'The Lost Sparrow', presented by Gallery Threshold and 'Palimpsest' at Aicon Gallery, New York. She recently held a show of her works at AkarPrakar art gallery in Kolkata. The artist lives and works in Kolkata.
the National Gallery of Modern Art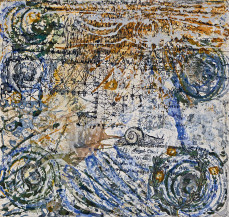 Untitled | 45" X 47 1/2"