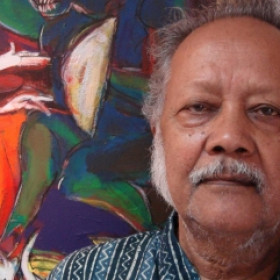 About Artist
He was born in 1936, East Bengal and graduated from the Government College of Art and Craft, Kolkata, and Delhi Polytechnic (Delhi College of Art) and retired as professor of Painting, College of Art, New Delhi University in1996. He also published books on art. Founded a number of art groups and initiated art activities. Dhiraj has held over 100 solo shows in major cities of India and 20 one-man shows abroad in USA, UK, France, Germany, Switzerland, Singapore, and Sweden. He has received 15 awards, including the National Award from Lalitkala Academy, New Delhi. Idealism and emotionalism in the arts are fast becoming unfashionable these days. Not with Dhiraj Choudhury. He steadfastly believes that art has to be closely associated with life with humanity, with humanism.
Academy : Delhi Polytechnic Delhi College of Art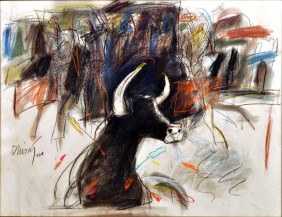 Bull | 19.6" X 25.3"