✕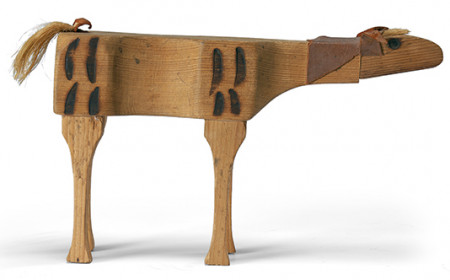 Available at
Live Auction:Taj Art Gallery, The Taj Mahal Palace, Apollo Bunder Mumbai By invitation only
About the Artwork
K. G. SUBRAMANYAN
1924 - 2016

Untitled

Wood, leather & jute
9.5 x 5.5 x 2 in
Signed: Lower bottom
Provenance: Property of a distinguished gentleman
Rs. 4,00,000 - 6,00,000
K. G. Subramanyan is widely regarded as one of India's most significant artists and pedagogues, known for his work across a diverse range of media including paintings on canvas, glass and acrylic. He was well known for print making, terracotta sculptures, murals and toys as well. His long career spanned both Santiniketan and Baroda, deeply influencing the practices of younger artists like Mrinalini Mukherjee, Nilima Sheikh and Sheela Gowda to name a few. In addition to art making, he was a prolific writer, articulating his approach to skills, materials and the diverse craft traditions of India in a series of essays and books. This wooden toy was crafted by the artist in the late 1960s for the annual art fair organised at the Faculty of Fine Arts, M. S. University of Baroda. Subramanyan would often draw animals in his sketchbooks, then construct elaborate models in clay to understand how different parts came together before creating sculptures using pieces of wood and other materials like felt and leather. Art historians have theorized these playful constructions through Subramanyan's deep engagements with Gandhian philosophy, Indian aesthetics, artisanal techniques as well as international avant-garde precedents in the likes of Alexander Calder, Pablo Picasso and Joan Miró. Only a few such toys have survived, making this object a significant testament to this period and aspect of the artist's oeuvre, strongly appraised by his peers, students and scholars alike.
| | |
| --- | --- |
| Medium : | Wood, leather & jute |
| Size : | 9.5 x 5.5 x 2 in |

About the Artist
K. G. Subramanyan was Born in Kerala, He studied at Kala Bhavan, Santiniketan and later at the Slade School of Art, London. He is one of the pioneers of Indian Modern Art. He is one considered of the country's most versatile artists, having worked on paintings, murals, toy-making, pottery, terracotta sculptures and illustrations. His paintings are noted for their inherent wit, irony, satire and critical social commentary. His works have been exhibited in Biennales in Tokyo and Sao Paulo and are part of the collections at the Musee del Art, the Victoria and Albert Museum, and the National Gallery of Modern Art, New Delhi, among others. He was honored with the Shiromani Kala Puruskar in 1994 and the Padma Vibhushan in 2012. He lived and worked between Santiniketan and Vadodara. He passed away in Vadodara in June 2016.